Learning the Trade of Operating a Safe Water Station
---
Safe Water Network is training Eddie Appiah to handle the plumbing aspects of constructing a Safe Water Station. He is also learning how to conduct routine maintenance and will take further training to learn all operational aspects of our Safe Water Stations. Eddie is part of a program to develop the local capability to manage community-led Safe Water Stations in rural and peri-urban locations in need.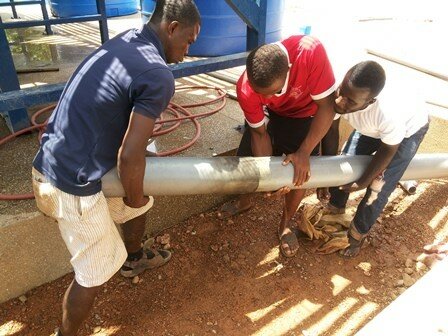 Eddie grew up in Accra and was determined to overcome the challenges of growing up in a country where over a million children do not go to school—that represents the fourth highest per capita rate in the world according to a United Nation's survey.
And like many neighborhoods in Ghana's capitol and surrounding areas, Eddie grew up without access to reliable, safe water. Eddie spent many hours each day as a child collecting water from a public standpipe that was situated far from his family's home.
Completing high school was a major accomplishment and Eddie got a good job as a driver for Consolidated Diamonds, a local mining company. Eddie worked hard, it wasn't just luck, but this opportunity provided little training or chance for advancement, and so Eddie joined Safe Water Network in 2009 as a driver with hopes that he would enter one of our training programs.
Today Eddie still drives, but he is also a plumbing apprentice, receiving both formal training and on-the-job experience.
"We're adding Safe Water Stations in several regions of the country," says Charles Nimako, head of Safe Water Network's African Initiatives. "But the key to local sustainability is having enough people from the community qualified to operate and maintain these systems. Eddie is a great example of what is possible. He was an important member of our construction team in the Volta and Western regions."
"I'm learning every day," says Eddie, "and I'm looking forward to one day becoming a full-time plumber servicing a cluster of safe water stations."
Safe Water Network is providing people like Eddie training and support to develop a variety of technical and management skills. Eddie, for example, will be enrolled in a program later this year to teach him bookkeeping and basic accounting skills so that he can manage the revenue and expenses of a Safe Water Station.
By teaching community members like Eddie how to run all aspects of a Safe Water Station, a community can be assured of having the skills required to keep safe water flowing long-term.