Partnerships, Impact, In the News
Safe Water Network Receives Pentair Foundation Grant for 2023-2024
---
Safe Water Network is pleased to announce that we have been awarded the Pentair Foundation Grant totaling $300,000 for the year 2023-2024. This generous grant will enable us to continue our mission of providing safe drinking water access to underserved communities across India.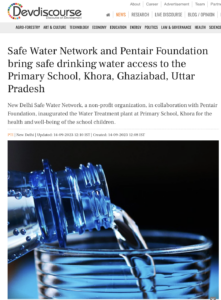 Key Highlights of the Pentair Foundation Grant:
Continued Safe Drinking Water Access: Safe Water Network is committed to maintaining safe drinking water access for approximately 1.38 million people through our iJal Stations (Safe Water Enterprises) in Telangana, Maharashtra, and Uttar Pradesh.
Operational Sustainability: We will ensure operational sustainability with the help of an independent Field Service Entity, aiming for 98% uptime. Additionally, this support entity will provide technical assistance to the sector, focusing on capacity building and establishing valuable partnerships for long-term sustainable impact.
Scaling ACOM Systems: The grant will also empower us to replicate our Automatic Chlorination and Online Monitoring (ACOM) systems, further enhancing 24×7 water safety for communities in Telangana.
Expanding Proof of Concept: We will expand our successful Proof of Concept for safe drinking water access in schools in Telangana, benefiting both students and staff.
Capacity-Building: Safe Water Network remains committed to capacity-building and periodic training for station entrepreneurs, Self-Help Group members, and operators. This training encompasses customer management, remote monitoring, plant hygiene, and other crucial areas, leveraging our digital tools.
Knowledge Sharing: The grant will support the creation of a Safe Water Network publication, which may take the form of a Spotlight, Field Insight, Sector Review, or Success Story. This publication will capture sector learnings and results and will be disseminated through a variety of distribution channels, and will also reside in our digital knowledge hub.
Stakeholder Engagement: We will organize one Beyond the Pipe Forum and four stakeholder forums/training workshops to engage with and educate stakeholders on our initiatives.
Digital Center of Excellence: Our SWE Alliance digital Center of Excellence will be enhanced to continue disseminating the sector's best practices, benefiting a wider audience.
Pentair Employee Engagement
As part of this program, Pentair employees will actively participate in our School WASH program and community-based events. This engagement will extend our reach to an additional 50,000 people, including low-income families and school students, furthering our commitment to providing safe drinking water access to those in need.
A Ten-Year+ Partnership
Safe Water Network is deeply grateful for the Pentair Foundation Grant. We are excited to embark on these impactful initiatives, expanding our reach and enhancing the lives of underserved communities and school children across India.
Our work often generates press including this article that ran in The Week, September, 2023: