Venkat Srinivasan Joins Safe Water Network's Board of Directors
---
Safe Water Network is honored to welcome Venkat Srinivasan, PhD, as a member of its Board of Directors. Venkat is a successful serial entrepreneur and investor with deep expertise in AI and a strong belief in technology for good.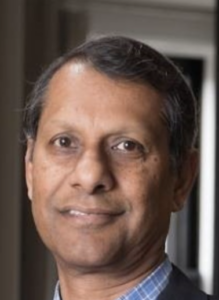 Dr. Srinivasan said, "I am impressed with Safe Water Network's progress in realizing operational excellence and look forward to supporting the organization's ambition to realize global impact at scale. Their end-to-end digital operating platform currently in development is particularly impressive, with potential as a game changer for sustainable water supply in Ghana and the rest of the world." He added, "As India celebrates its 73rd Republic Day and races to get a tap in every home, Safe Water Network is at the forefront ensuring quality and reliability, working with everyone from the village Panchayat to the central ministries."
Venkat is the Founder and Managing Director of Innospark Ventures, an evergreen venture fund investing in early-stage AI led startups. Venkat has founded several successful startups, including eCredit, Corporate Fundamentals, Rage Frameworks, EnglishHelper, Gyan.AI, KnowYourMeds, and PrismX. He currently serves as a Vice-Chair of the Board of the American India Foundation. He also serves on the Board of New Profit, a pioneering venture philanthropy. Venkat is also a Trustee of BUILD and a member of the Dean's Executive Council at the D'More-McKim School of Business at Northeastern University. Venkat was honored in 2017 with a Lifetime Achievement Award by The Indus Entrepreneurs.
"Venkat's considerable experience includes scaling commercial solutions that meet social needs in developing markets. I look forward to his guidance as we work to accelerate the impact of our work – in Ghana, India, and globally," says Kurt Soderlund, CEO, Safe Water Network.
Dr. Srinivasan holds 9 patents, has published over 30 research papers in prestigious peer-reviewed journals, has co-edited two books, and is the author of a recently published book titled, "The Intelligent Enterprise in the Era of Big Data." Prior to his entrepreneurial career, Venkat served as an Associate Professor at the D'More-McKim School of Business at Northeastern University.